We can accommodate almost any storage situation you could require.
• Interior Storage Units – 9 Sq Ft – 600 Sq Ft
• Outdoor storage – Any Size Motor Home, RV, Vehicle or boat
• Covered Storage – For cars, trucks or boats.
• Mobile Storage – Any Time – Any Place! Store in our 5x8x7 insulated trunks or our 8X20 sea cans.
When trying to determine what size of a unit you will need we can provide some basic guidelines. Keep in mind that you need to take the size of your furniture into consideration as dressers can be single double or triple drawers wide and kitchen tables and couches all come in different sizes.
Therefore, this is a general idea of what you may fit into the different sizes of units we have: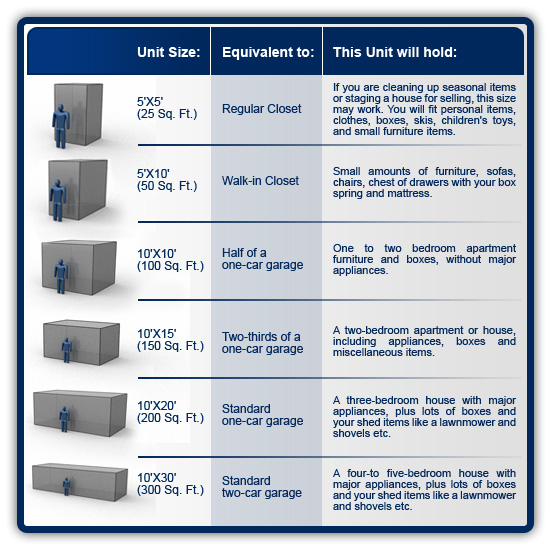 A few points to keep in mind when filling your unit:
• Our units are 8 feet tall so the more you stack, the more you store!
• Stack boxes on solid boxes with a good crush strength rating or use plastic bins.
• Try not to put heavy items on the seats of couches and chairs or you may collapse the springs.
• Group your items into areas with an isle down the middle so you can access essential items while in storage (people almost always come back for something and if their units are poorly organized they can search for a long time).